Efficient Packaging
Reduced Storage Space:
CoolSeal boxes are delivered flat, pre-folded and packed in bundles, to minimize delivery and storage costs. It is no longer necessary to reserve large areas of expensive floor space for EPS foam boxes waiting to be filled.
CoolSeal boxes can be stored flat and constructed by hand on a just-in-time basis right at your packing stations.
Transportation Efficiency:
When compared to a styrofoam box with the same internal dimensions, an erect CoolSeal package is up to 35% smaller than the erect EPS boxes, resulting in storage and transportation cost savings. You can ship more packages with more product than with EPS and reduce shipping cost per pound.
Air Freight Savings:
Our boxes not only take up less space than styrofoam boxes, they are considerably lighter than waxed corrugated alternatives to reduce freight cost. For example, our lobster box is approximately one pound lighter than it's waxed corrugated alternative. One pound per box offers considerable savings on shipping cost determined by weight.
Also, because CoolSeal boxes are 100% polypropylene (PP) with no fasteners, they may pass through security in pallet form as opposed to a waxed corrugated box with staples that may pass through security individually.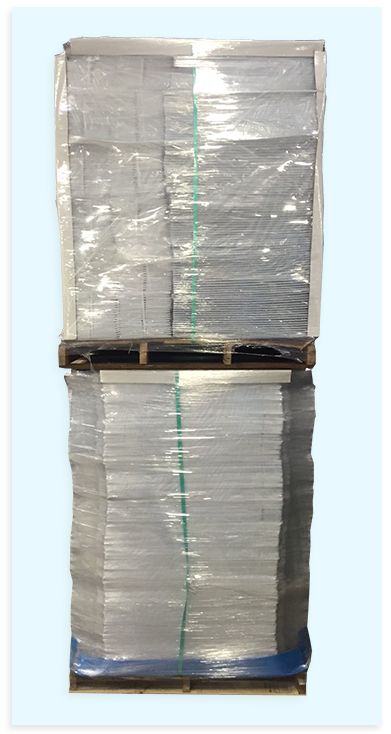 3 of CoolSeal's pallets equals approximately an entire truckload of EPS Foam boxes
1,200 Boxes | 40" x 48" Footprint | <100" High
Our pre-folded and pre-glued packaging solutions include features that make erecting our boxes simple and cost efficient. These can be draining 4-corner glue or fold-over-end leakproof designs. We offer many variations to accommodate the requirements of a wide variety applications, including custom designs.
CoolSeal's easy-erect design enables waterproof boxes to be ready in a few simple steps. We also offer a range of stacker boxes which include easy-erect bases and pop-up lids and 4-corner glue designs with pop up bases and pop up lids.

These packages are designed for column stacking and interlocking. The trays can be filled and stacked without the lids, and then moved to icing, labeling and packing areas.