Benefits
CoolSeal's lightweight boxes are 100% recyclable and environmentally friendly.
We heat seal the edges in order to increase strength, improve insulation, eliminate potential contamination in open flutes, and to provide easy and efficient storage and transportation.
The strong, fiber-free packing boxes have an easy-to-erect design that ships flat, and compared to EPS they have similar internal volume with much smaller outer dimensions. The result is more pounds of product per pallet.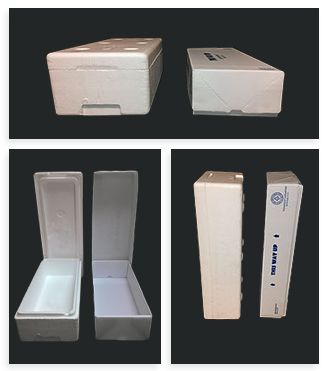 Efficient Packaging
Reduced Storage Space:
CoolSeal boxes are delivered flat, pre-folded and packed in bundles, to minimize delivery and storage costs. It is no longer necessary to reserve large areas of expensive floor space for styrofoam boxes waiting to be filled.
CoolSeal boxes can be stored flat and constructed by hand on a just-in-time basis right at your packing stations.
Transportation Efficiency:
When compared to a styrofoam box with the same internal dimensions, an erect CoolSeal package is up to 35% smaller than the erect EPS boxes, resulting in storage and transportation cost savings. You can ship more packages with more product than with EPS and reduce shipping cost per pound.
Airfreight Savings:
Our boxes not only take up less space than styrofoam boxes, they are considerably lighter than waxed corrugated alternatives to reduce freight cost. For example, our lobster box is approximately one pound lighter than it's waxed corrugated alternative. One pound per box offers considerable savings on shipping cost determined by weight.
Also, because CoolSeal boxes are 100% polypropylene with no fasteners, they may pass through security in pallet form as opposed to a waxed corrugated box with staples that may pass through security individually.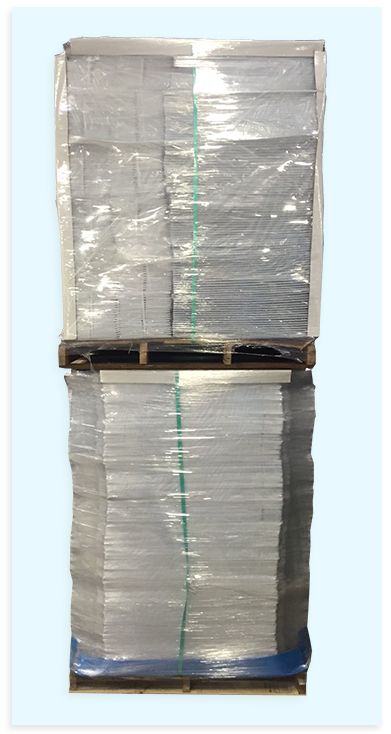 8 of CoolSeal's pallets equals approximatelyan entire truckload of Styrofoam boxes
1,200 Boxes | 40" x 48" Footprint | <100" High