Agricultural Packaging - Designed With You In Mind
Environmentally Sustainable Packaging
CSA Produce Packaging - Stock & Custom Options Available
Community Supported Agriculture (CSA) programs provide consumers the opportunity to enjoy organic, seasonal crops like fruit, vegetables and herbs while supporting family run farms. We at CoolSeal want to do our part in promoting community farming by making our standard print CSA packaging directly available to producers in small quantities at wholesale pricing.
Made from our eco-friendly, 100% recyclable green corrugated polypropylene (PP5) material and marked in smear-proof, fade resistant UV yellow ink, our standard print produce boxes are an ideal solution for closed loop distribution systems and are readily available in two sizes.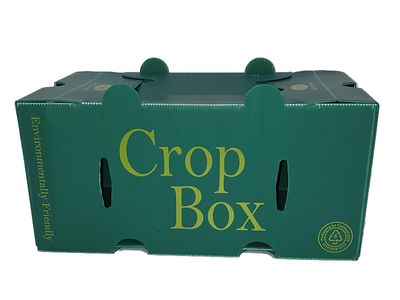 1/2 Bushel - Stock
Dimensions: 16" Length x 9" Width x 7.5" Height
Volume: 1080 cubic inches
Weight Capacity: 40 pounds
Sold in bundles of 25, full pallet quantity of 700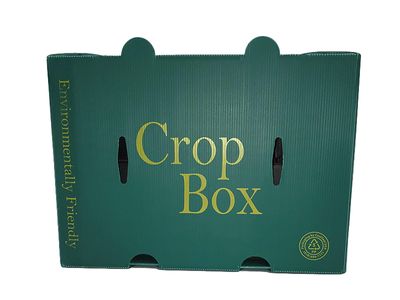 3/4 Bushel - Stock
Dimensions: 16" Length x 9" Width x 11.5" Height
Volume: 1656 cubic inches
Weight Capacity: 60 pounds
Sold in bundles of 25, full pallet quantity of 700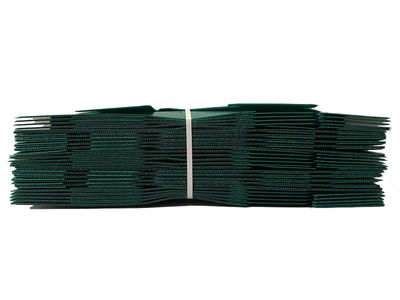 Easy to clean, durable and designed to be reused, our produce boxes are sold in bundles of 25, shipped flat for easy storage and have clear instructions printed directly on the box to make for fast and easy assembly in the field. With locking tabs engineered to universally fit both sizes, our boxes are designed for stacking and palletization.
Environmentally Sustainable Packaging
Lightweight, durable and mildew resistant, our produce boxes are designed for years of use. Unlike waxed coated cardboard boxes, corrugated polypropylene is impervious to moisture and will remain viable when wet. Our boxes are BPA free and fully recyclable at the end of their life cycle as PP5 rigid plastic.
Have a large order or interested in custom printing?
Contact David Austin at 419-666-1111 ext. 216 or DAustin@CoolSealUSA.com
* Crop Box dimensions are in inches.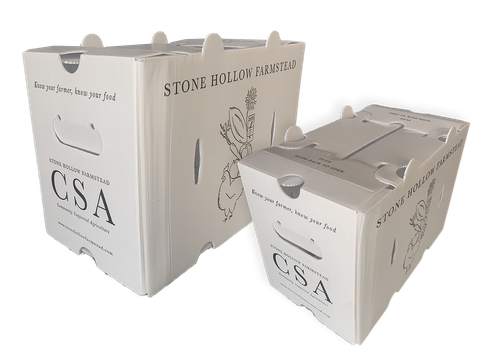 CoolSeal Crop Boxes
Crop boxes, also known as CSA boxes, are environmentally sustainable containers that are used to transport, store, and display fresh produce.
These containers are used extensively in the agricultural industry due to their durability, versatility, and low cost. The key benefits include the protection of the produce from damage during handling and transport, the reduction of post-harvest losses, and the facilitation of efficient inventory management.
Benefits of Crop Boxes:
Environmentally Friendly: Made with sustainable polypropylene, BPA/PFAs free, reusable, returnable, 100% recyclable at the end of lifecycle

High Quality: Assembly edges are heat sealed for durability, thermally die cut to set creases and folds, lightweight, stacking tabs to lock boxes in positions

Sturdy: 50 pounds load 1/2 bushel, 75 pounds load 3/4 bushel

Cost Savings: Short payback period compared to wax coated boxes, impervious to moisture and won't deteriorate, hydrocool directly in boxes, twin wall plastic cushions to prevent bruising, and ships/stores flat for space savings
Standard Sizing:
1/2 Bushel: 16" x 9" x 7.5", 1080 cubic inches
3/4 Bushel: 16" x 9" x 11.5", 1656 cubic inches
Cleaning and Sanitizing Crop Boxes:
It is important that crop boxes are properly cleaned and sanitized to minimize the risk of contamination and foodborne illnesses. Cleaning should be done with food grade/safe sanitizing products including sodium hypochlorite, hydrogen peroxide, detergents/soaps, or other certified organic solutions. Regular weekly cleaning and sanitizing help to ensure that the produce transported and stored in them remains safe and of high quality.
Helps to decrease postharvest losses.

Helps to prevent the spread of pathogens and contamination of produce.

Improves the quality and shelf life of the produce.

Complies with food safety regulations and standards.

Reduces the risk of foodborne illnesses.

Helps to protect the reputation and financial stability of the business or farm.

Creates a safer work environment for employees.

Increases consumer confidence in the safety of the produce.

Minimizes the need for product recalls, which can be costly and damaging to the business.
Cleaning and sanitizing crop boxes involves several steps:
Preparing a cleaning and sanitizing solution: A cleaning and sanitizing solution can be made by mixing soap and water, followed by a solution of water and bleach.
Cleaning the crop boxes: The first step involves washing the boxes with soap and water to remove any dirt, debris, or other contaminants.
Rinsing the boxes: After cleaning, the boxes should be rinsed thoroughly with clean water to remove any remaining soap residue.
Sanitizing the boxes: Once clean, the boxes should be sanitized by immersing them in a solution of water and bleach for at least a minute. Alternatively, a sanitizing solution can be applied to the boxes using a spray bottle.
Allowing the boxes to dry: After sanitizing, the boxes should be allowed to dry completely before using them again.
It's important to note that cleaning and sanitizing should be done regularly, at least weekly, especially if the boxes have been used to transport or store produce. Proper cleaning and sanitizing can help prevent the spread of bacteria and other harmful microorganisms, making it an essential part of food safety practices.
CSA Crop Boxes from CoolSeal are sturdy, sustainable and sure to make your community garden project a success year after year.
For Custom Printing of 1400+, Please Fill Out the Form Below