Plastic Corrugated Laminates
Standard and Speciality Laminates
Lamination of fabrics to plastic corrugated is nothing new, especially in the Automotive Returnable Packaging Industry, but CoolSeal USA has mastered the art. Maximizing part protection while providing you with a sheet that can be easily fabricated is our goal. We use adhesives that minimize the possibility of delamination but cure fully so as to not slow down your fabrication processes with gummed up knives.
We offer a wide variety of laminants, in different sizes and colors in order to make you as cost competitive as possible. Whether in-mold colored, painted, chromed, clear, or coated, we have a laminant that will keep your parts safe for the lifetime of the program.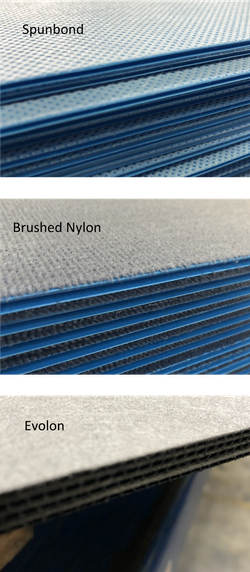 Standard Laminants
Over the years, there have been several standards developed within the automotive returnable packaging marketplace. We have detailed these "standards" from lowest price, lowest protection to highest protection – highest price.
Spunbond Lamination – This is the least expensive of our lamination fabrics, but is also less protective than some other cloths. This polypropylene non-woven material is good for more durable finishes and is the most "recyclable" of our laminants. This material is not a good option if outside storage is required as it is susceptible to U.V. and moisture.
Brushed Nylon Lamination – Has become the industry standard for painted, chromed or coated parts. This material is actually flocked (sprayed) onto a mesh substrate. This material is incredibly durable, and even with industrial use and minimal cleaning, protects your critical surfaces from abrasion.
Evolon™ Microfilament Textile – A product of Freudenberg, CoolSeal USA is an authorized laminator of the real deal Evolon and not cheaper imported knockoffs. Evolon is considered the gold standard when it comes to durability as well as "class A" surface protection. Used with more difficult to protect parts, it is most successful with painted or chromed surfaces.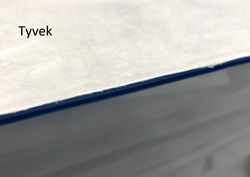 Specialty Laminants
In addition to the industry standards, we have developed several other specialty laminants that have been proven to fit customer's specific needs.
Microfiber Suede Lamination – This is the ultimate surface protection. This product has a thicker nap than most other laminants and is flocked much in the same fashion as Brushed Nylon.
Tyvek™ - For years, Tyvek™ has been a standard material use by General Motors and their suppliers for "Class A" part protection. We are a licensed DuPont distributor and while we concentrate on the lamination of 1056DR material, we do have the ability to get and laminate other DuPont materials.
Volara – Volara is a cross linked polyethylene foam used for cushioning and "Class A" surface protection. While the use of volara has waned over the last several years with the advent of other laminants, we continue to offer it as a solution to your specialty packaging needs.
We are your answer for any of your plastic corrugated questions and if we don't have the solution, we will assist you in finding someone who can. Contact us today at 419-350-0950, or click here to request a quote!