Corrugated Plastic Sheet Extruder / Manufacturer
We are 1 of 8 plastic corrugated extrusion companies in North America. We are not only a manufacturer / extruder, but also a fabricator, much like an integrated company in the paper corrugated industry.
In Europe, with ¼ of the market size, there are 26 plastic corrugated extrusion companies. North America is 10 to 15 years behind Europe in terms of what plastic corrugated is used for, CoolSeal is bridging that gap unlike any of the others.
Fluted polypropylene sheets and panels are for interior and exterior use. They are moisture resistant, durable, bendable and flexible.
World Class Environmentally Friendly Materials
Uses:
Plastic corrugated sheet has an unlimited number of uses, both as sheet and fabricated into different products.

Sizes:
Standard sheets / panels – We always keep a number of 4' x 8' sheets on our floor, but have the ability to extrude custom sizes and colors specific to your application, reducing waste and getting you the product you want.
Fill out the form below for a quote request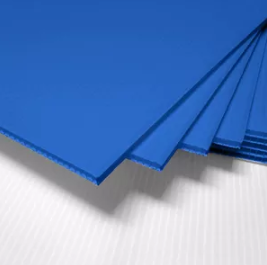 Our factory direct stock sheets are now available for retail customers in individual quantities! All stock sheets are 48"x96" with flutes running along the 96" direction. All sheets are offline, untrimmed, square, and corona treated for printing purposes. All thicknesses available in white, blue or black.
For wholesale customers or orders of more than 100 sheets, please contact us here.
Stock or Custom Corrugated Plastic Sheets:
As a corrugated sheet manufacturer, we can extrude our own corrugated plastic sheet in gauges ranging from 2mm to 10mm. We offer stock and custom size sheets in three standard colors: blue, white and black. We can also extrude any color in the rainbow.
Laminated Plastic Sheet:
Plastic corrugated by itself is abrasive to a class A surface. CoolSeal laminates a variety of fabrics and foams in house to provide class A surface protection while still having the structure of the plastic corrugated to build something out of.
Die Cut Plastic Sheet:
CoolSeal can meet all of your plastic corrugated die cutting needs. We have a variety of die cutters operating from 3,000 impressions per hour to 300 so that we can meet your needs efficiently and cost effectively.
CoolSeal has over 35 years' experience in the fabrication of plastic corrugated, primarily for the automotive returnable packaging industry. We understand what the expectations are of the product and how we can supply that product in a fashion that will save your company time and money in assembly.
Thermal Die Cutting – We are the only company in North America with the ability to thermally die cut, using a heated platen to set scores as well as seal the edges on a number of our plastic corrugated thicknesses, offering a friendly, hygienic edge.
Unlike other extruders, we are not focused on making sheet for the sign industry, we are interested in materials that are going to be converted in one way or another.
Stock or Custom Corrugated Sheets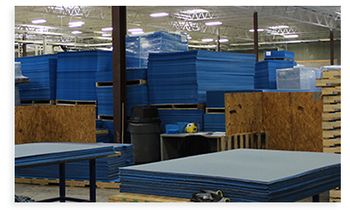 Corrugated Plastic Sheet Manufacturer
Die cut to your specification.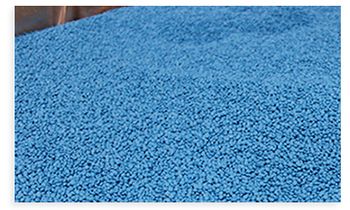 Standard & Custom Colors
Standard in 3 colors: blue, white and black. Other colors also available.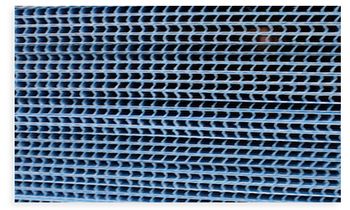 Plastic Corrugated Sheets
Fluted polypropylene sheets are for interior and exterior use.
For the last 30 years, plastic corrugated has been used primarily for the printing and automotive returnable packaging industries in North America. However, because of our extensive background, CoolSeal is a corrugated sheet manufacturer and supplier with knowledge unparalleled by any others in the marketplace.
We not only extrude our own plastic, but we have the design knowledge to make it work for our customers in markets where it traditionally has not been used. As the only independent extruder of plastic corrugated in the country, we are committed to helping our customers find the best and most cost-effective solutions and not pigeon-holing anyone into what has become "standard" in the North American marketplace.
In addition to extruding, we also laminate cloth materials onto our plastic corrugated substrates, primarily for class A surface protection within the automotive returnable packaging market. These materials include foams, brushed nylon, and spunbond polypropylene.
We have founded our facility much in the same fashion as that of an integrated paper corrugated house, so as to offer our customers fabricating capabilities unmatched in North America. We have created technologies that no one else uses, including high speed flexographic printing using UV inks, thermal die-cutting with edge sealing, and high speed specialty gluing specifically for our plastic corrugated.
Our quality policy says it all, as we strive to be the foremost extruder and fabricator of plastic corrugated in North America. We are committed to total customer satisfaction in everything we do, partnerships with customers and suppliers, and employee communication and involvement, as we expand the market in new and diverse directions.